Sara Khayatian is the lead designer at Next Level Design, Sara is best known for her clever decorating strategies in contemporary and boho aesthetic. She has designed and worked along many happy home builders and home owners for past 14 years in the GTA with projects ranging from small condos to large scale luxury homes.
 Sara's passion for design has always been very clear to her from a young age. She spent her childhood immersed in the arts. Drawing, sketching, painting, and always creating. In addition to that, she grew up watching her father design and build houses and commercial spaces. Watching her father sketch at nights and working on projects, Sara was fascinated by the process of design. 
 That passion continues today as she is fully immersed in every project she takes on. Either staging one room, or renovating and giving a face lift to an entire home, Sara ensures every project is given the same level of attention and that the output is quality work she can be proud of. Sara founded Next Level Design in 2007 and since then, has developed strong relationships with experts in construction and design that have elevated her work.
WHAT YOU GET
1.  2 hours on-site consultation with Sara (lead Designer)
2. Time to answer all your questions, discuss your ideas and the vision you have for your home.
3. A chance for you to interview me and see if we're a good fit.
4.  I may recommend adding new pieces or removing something that is not working in your space.
5.  We'll discuss paint colours. This will be conversational, not the exact shade of paint will be finalized.
6.  Detailed notes that I will use for your project if you hire me. If you'd prefer to tackle it yourself, I will send you my notes to ref
The following Design Day package options are perfect for the do-it-yourself and home decorating enthusiasts that have decorating projects they've been meaning to tackle, but haven't pulled the trigger. They know what they like, but they're not sure where to start or how to make it all come together for a cohesive look and feel. They would love a little reassurance and professional guidance without the long-term commitment of working with an interior designer.
This option is great for those projects that need a little focus and guidance from an expert. You'll receive up to 3.0 hours of one-on-one in-home design time with Sara, where you can ask questions and seek advice regarding furniture selection and placement, lighting, paint colour, and more. We can concentrate on one room or multiple rooms. After our time together, you will be provided with a series of notes . This will be your plan of attack, so to speak!
WHAT YOU GET:
1.  3 hour in-home meeting with Sara
2.  Colour and Material Board
3.  Inspiration Board
4.  A digital Design Plan to allow for easy execution by client (Includes 1 revision)
5.  Scaled Floor Plan
6.  Personalized Shopping List with links for furniture and accessories
7.  Design notes + styling tips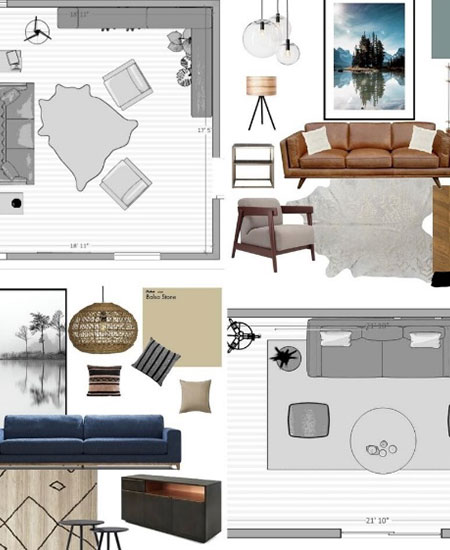 Full Service Interior Design
This is perfect for someone who is looking for the complete package. No project is too big or too small. Whether it's a full remodel, build or just re-painting and new decor, this service covers it all. From the start we will go over your vision for your space, come up with a design that is functional and beautiful, ensuring no detail is left unfinished.
WHAT YOU GET
1. Direct access to Sara, Lead Designer
2. Inspiration board
3. Colour and material board
4. A custom digital design plan with design notes (includes 1 revisions)
5. Scaled Floor Plan and Elevation Renderings (as needed)
6. Vintage sourcing (as needed)
7. Purchasing of furniture and accessories
8. Budgeting and estimating
9. Consultations with builders and contractors and trades
10. Tile patterns and layouts
11. Millwork drawings and cabinetry design
12. Final placement and styling of space
13. 30 day check in with finishing touches
This is a perfect package for someone that needs help to do some updates and come up with a perfect furniture layout for their condo. We know small spaces could be challenging sometime, and we have a perfect design package for you.
WHAT YOU GET
1. Inspiration board
2. Scaled Floor Plan and Renderings (as needed)
3. Purchasing of furniture and accessories
4. Consultations with contractors and trades
5. Millwork drawings and cabinetry design
6.Final placement and styling of space
Colour is a non-verbal, visual expression of who we are, and it can alter our mood — good and bad. It's one of the most important elements in creating a mood for your interior space, and is often the most frustrating and overwhelming task for many homeowners.
 Relying on a swatch found on Pinterest, your friend's wall or in a magazine can be a great start but unreliable at best. As many have found out the hard way, paint is highly subjective to a room's particular lighting, floor coverings, and furnishings and what looks perfect on a small swatch can look extremely different in a whole room.
WHAT YOU GET
1.  A pre-consultation questionnaire to learn more about what inspires you and how you want your room to feel.
2. On-site consultation and evaluation with Sara (1 hour)
3.  Time to hear your inspiration and ideas and we'll discuss my general recommendations for color.
4.  Following the consultation, a mood board and written specification listing up to 5 color suggestions.
5.  On-site review and final color selection with Sara (1 hour).